ECC Reducer Dimensions
SPECIFICATIONS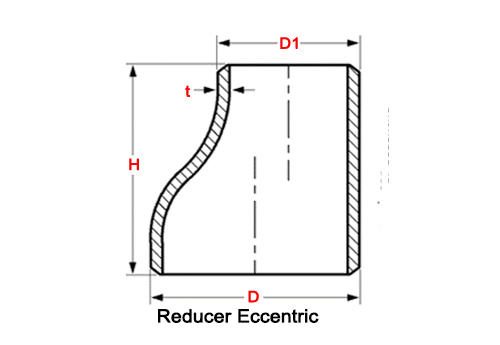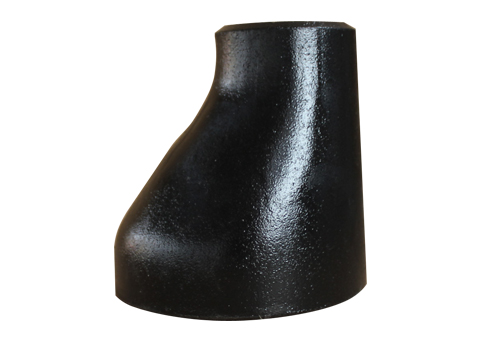 ECC Reducer Dimensions
ECC Reducer information:
Eccentric reducer is used in different diameters of two pipes between the piping system accessories. They are used for the pipe diameter of the upstream side of the accessory (i.e. where the flow is coming from) larger than the downstream side. Unlike a cone-like concentric reducer, the edge of the eccentric reducer is parallel to the connecting pipe. This parallel edge causes two pipelines to have an offset centerline. The same accessory can be used as an eccentric supercharger/expander.
The horizontal liquid reducer is always eccentric, the top flat (unless in the PV,TV,HV,LV control setting) or (tube frame), to prevent the accumulation of bubbles in the system. The suction side of the pump uses an eccentric reducer to ensure that the air does not accumulate in the pipe. The gradual accumulation of air in a concentric reducer may lead to large bubbles, which eventually cause a stall or cavitation in the pump suction pump.
The horizontal pressure reducer is always eccentric, the bottom is flat, which allows condensation of water or oil to be discharged at a low point.
The reducer of the vertical line is usually concentric, unless otherwise stipulated in the layout.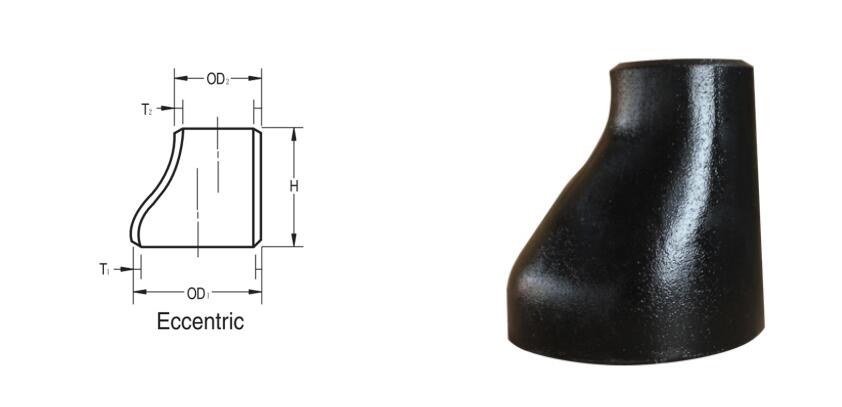 Nominal
Pipe Size
Outside Diameter
End to End
STD
SCH40
X-S
SCH80
SCH160
XX-S
OD1
OD2
H
T1
T2
T1
T2
T1
T2
T1
T2
T1
T2
T1
T2
3/4X1/2
1.050
0.840
1.50
0.113
0.109
0.113
0.109
0.154
0.147
0.154
0.147
0.219
0.188
0.308
0.294
1X3/4
1.315
1.050
2.00
0.133
0.113
0.133
0.113
0.179
0.154
0.179
0.154
0.250
0.219
0.358
0.308
1X1/2
1.315
0.840
2.00
0.133
0.109
0.133
0.109
0.179
0.147
0.179
0.147
0.250
0.188
0.358
0.294
1-1/4X1
1.660
1.315
2.00
0.140
0.133
0.140
0.133
0.191
0.179
0.191
0.179
0.250
0.250
0.382
0.358
1-1/4X3/4
1.660
1.050
2.00
0.140
0.113
0.140
0.113
0.191
0.154
0.191
0.154
0.250
0.219
0.382
0.308
1-1/4X1/2
1.660
0.84
2.00
0.140
0.109
0.140
0.109
0.191
0.147
0.191
0.147
0.250
0.188
0.382
0.294
1-1/2X1-1/4
1.900
1.660
2.50
0.145
0.140
0.145
0.140
0.200
0.191
0.200
0.191
0.281
0.250
0.400
0.382
1-1/2X1
1.900
1.315
2.50
0.145
0.133
0.145
0.133
0.200
0.179
0.200
0.179
0.281
0.400
0.400
0.358
1-1/2X3/4
1.900
1.050
2.50
0.145
0.113
0.145
0.113
0.200
0.154
0.200
0.154
0.281
0.219
0.400
0.308
2X1-1/2
2.375
1.900
3.00
0.154
0.145
0.154
0.145
0.218
0.200
0.218
0.200
0.344
0.281
0.436
0.400
2X1-1/4
2.375
1.660
3.00
0.154
0.140
0.154
0.140
0.218
0.191
0.218
0.191
0.344
0.250
0.436
0.382
2X1
2.375
1.315
3.00
0.154
0.133
0.154
0.133
0.218
0.179
0.218
0.179
0.344
0.250
0.436
0.358
2X3/4
2.375
1.050
3.00
0.154
0.113
0.154
0.113
0.218
0.154
0.218
0.154
0.344
0.219
0.436
0.508
2-1/2X2
2.875
2.375
3.50
0.203
0.154
0.203
0.154
0.276
0.218
0.276
0.218
0.375
0.344
0.552
0.436
2-1/2X1-1/2
2.875
1.900
3.50
0.203
0.145
0.203
0.145
0.276
0.200
0.276
0.200
0.375
0.281
0.552
0.400
2-1/2X1-1/4
2.875
1.660
3.50
0.203
0.140
0.203
0.140
0.276
0.191
0.276
0.191
0.375
0.250
0.552
0.382
2-1/2X1
2.875
1.315
3.50
0.203
0.133
0.203
0.216
0.276
0.179
0.276
0.179
0.375
0.250
0.552
0.358
3X2-1/2
3.500
2.875
3.50
0.216
0.203
0.216
0.203
0.300
0.276
0.300
0.276
0.438
0.375
0.600
0.552
3X2
3.500
2.375
3.50
0.216
0.154
0.216
0.154
0.300
0.218
0.300
0.218
0.438
0.344
0.600
0.436
3X1-1/2
3.500
1.900
3.50
0.216
0.145
0.216
0.145
0.300
0.200
0.300
0.200
0.438
0.281
0.600
0.400
3X1-1/4
3.500
1.660
3.50
0.216
0.140
0.216
0.226
0.300
0.191
0.300
0.191
0.438
0.250
0.600
0.382
3-1/2X3
4.000
3.500
4.00
0.226
0.216
0.226
0.216
0.318
0.300
0.318
0.300
-
0.438
-
0.600
3-1/2X2-1/2
4.000
2.875
4.00
0.226
0.203
0.226
0.203
0.318
0.276
0.318
0.276
-
0.375
-
0.552
3-1/2X2
4.000
2.375
4.00
0.226
0.154
0.226
0.154
0.318
0.218
0.318
0.218
-
0.344
-
0.436
3-1/2X1-1/2
4.000
1.900
4.00
0.226
0.145
0.226
0.145
0.318
0.200
0.318
0.200
-
0.281
-
0.400
4X3-1/2
4.500
4.000
4.00
0.237
0.226
0.237
0.226
0.337
0.318
0.337
0.318
0.531
-
0.674
-
4X3
4.500
3.500
4.00
0.237
0.216
0.237
0.216
0.337
0.300
0.337
0.300
0.531
0.438
0.674
0.600