CLASS 2500 CARBON PIPE WELDED NECK FLANGES
SPECIFICATIONS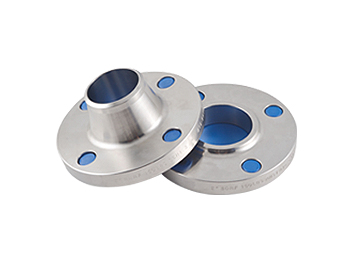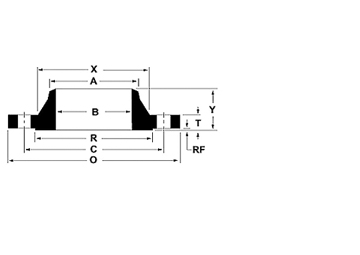 Nominal
Pipe Size
Outside
Diameter
Thickness
Raised Face
Diameter
Length
Thru Hub
Point
of Weld
Hub
Diameter
Bore
Approximate Weight
Bolt Circle
Number
of Holes
Diameter
of Holes
(O)
(T)
(R)
(Y)
(A)
(X)
(B)
(lbs)
(C)
1/2

5.25

1.19

1.38

2.88

0.84

1.69

Specified by
purchaser

7

3.5

4

0.88

3/4

5.5

1.25

1.69

3.13

1.05

2

Specified by
purchaser

8

3.75

4

0.88

1

6.25

1.38

2

3.5

1.32

2.25

Specified by
purchaser

12

4.25

4

1

1 1/4

7.25

1.5

2.5

3.75

1.66

2.88

Specified by
purchaser

17

5.13

4

1.13

1 1/2

8

1.75

2.88

4.38

1.9

3.13

Specified by
purchaser

25

5.75

4

1.25

2

9.25

2

3.63

5

2.38

3.75

Specified by
purchaser

42

6.75

8

1.13

2 1/2

10.5

2.25

4.13

5.63

2.88

4.5

Specified by
purchaser

52

7.75

8

1.25

3

12

2.63

5

6.63

3.5

5.25

Specified by
purchaser

94

9

8

1.38

4

14

3

6.19

7.5

4.5

6.5

Specified by
purchaser

145

10.75

8

1.63

5

16.5

3.63

7.31

9

5.56

8

Specified by
purchaser

245

12.75

8

1.88

6

19

4.25

8.5

10.75

6.63

9.25

Specified by
purchaser

380

14.5

8

2.13

8

21.75

5

10.63

12.5

8.63

12

Specified by
purchaser

580

17.25

12

2.13

10

26.5

6.5

12.75

16.5

10.75

14.75

Specified by
purchaser

1075

21.25

12

2.63

12

30

7.25

15

18.25

12.75

17.38

Specified by
purchaser

1525

24.38

12

2.88
Product Name:CLASS 2500 CARBON PIPE WELDED NECK FLANGES
Type: welding neck
Material: carbon stell
Size: 1/2" to 24" or as per customer's request.
Origin: China
Brand: Metleader
Packaging: plywood case or pallet
Inspection: inspection inside or the third party
Lead time: 30days
Surface: black painting, anti-rust oil and varnish.


Pipe flanges that are made to standards of ASME/ANSI B16.5 or ASME B16.47 are typically made from forged materials ASTM A105 and have machined surfaces. ANSI B16.5 is about the size from 1/2inch to 24inch and ANSI B16.47 refer to 26in to 60inch. The pressure class of ANSI B16.5 involves to class150, 300, 600, 900, 1500, 2500 and ASME B16.47 involves to class75, 150, 300, 400, 600, 900.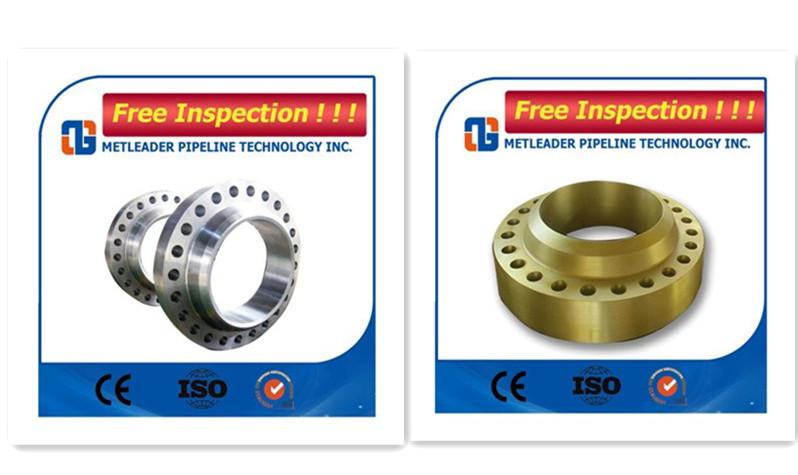 CLASS 2500 CARBON PIPE WELDED NECK FLANGES is just produce according to standard of ASME/ANSI B16.5. The raw material is ASTM A105, the sealing surface includes RF and RTG because of the high pressure. Welding neck flange is not easy to be deformed, good sealing, widely used. There is a corresponding rigidity and elasticity requirements and reasonable butt welding thinning transition, the welding distance from the joint surface, the joint surface from the welding temperature deformation.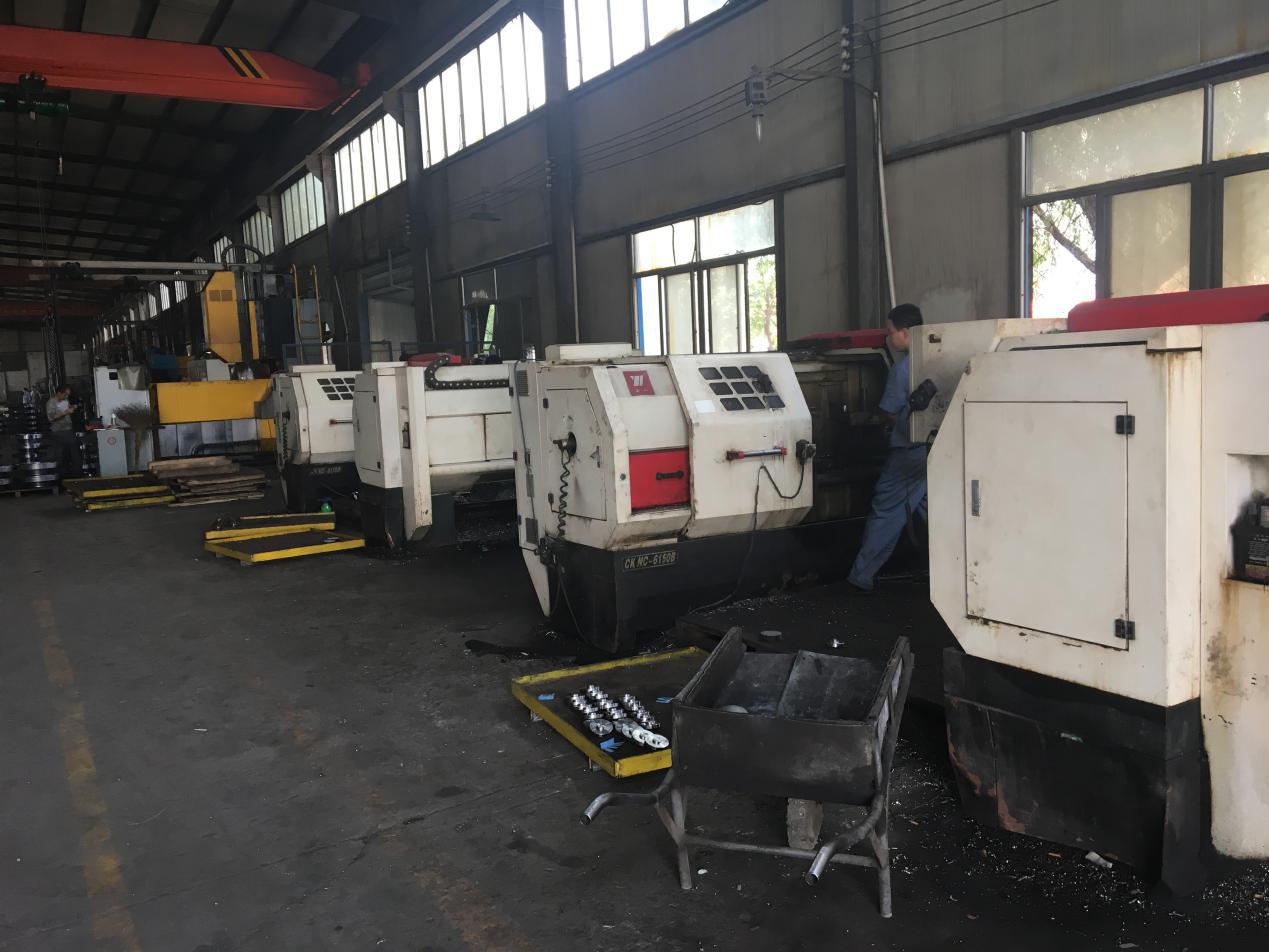 The production processing of welding neck flange:
Forging processing is the common production method of steel pipe flanges. It refer to the following steps, the selection of high-quality billet blanking, heating, forming, and cooling after forging. Forging process methods are forged, die forging and membrane forging. Production, according to the size of the forging quality, the number of production batch selection of different forging methods.