ASME/ANSI B16.5 Class 150 Lap Joint Flanges/Loose Flanges
SPECIFICATIONS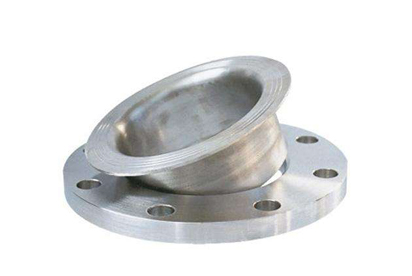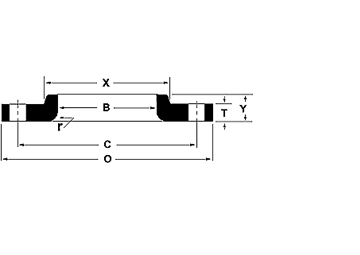 ▪ All dimensions are in inches









Nominal
Pipe Size
Outside
Diameter

Thickness

Length
Thru Hub
Hub
Diameter

Radius

Bore

Approximate Weight

Bolt Circle

Number
of Holes
Diameter
of Holes

(O)

(T)

(Y)

(X)

(r)

(B)

(lbs)

(C)

1/2

3.50

0.44

0.63

1.19

0.13

0.90

1

2.38

4

0.63

3/4

3.88

0.50

0.63

1.50

0.13

1.11

2

2.75

4

0.63

1

4.25

0.56

0.69

1.94

0.13

1.38

2

3.13

4

0.63

1 1/4

4.63

0.63

0.81

2.31

0.19

1.72

3

3.50

4

0.63

1 1/2

5.00

0.69

0.88

2.56

0.25

1.97

3

3.88

4

0.63

2

6.00

0.75

1.00

3.06

0.31

2.46

5

4.75

4

0.75

2 1/2

7.00

0.88

1.13

3.56

0.31

2.97

7

5.50

4

0.75

3

7.50

0.94

1.19

4.25

0.38

3.60

8

6.00

4

0.75

3 1/2

8.50

0.94

1.25

4.81

0.38

4.10

11

7.00

8

0.75

4

9.00

0.94

1.31

5.31

0.44

4.60

13

7.50

8

0.75

5

10.00

0.94

1.44

6.44

0.44

5.69

15

8.50

8

0.88

6

11.00

1.00

1.56

7.56

0.50

6.75

19

9.50

8

0.88

8

13.50

1.13

1.75

9.69

0.50

8.75

30

11.75

8

0.88

10

16.00

1.19

1.94

12.00

0.50

10.92

43

14.25

12

1.00

12

19.00

1.25

2.19

14.38

0.50

12.92

64

17.00

12

1.00

14

21.00

1.38

3.13

15.75

0.50

14.18

105

18.75

12

1.13

16

23.50

1.44

3.44

18.00

0.50

16.19

140

21.25

16

1.13

18

25.00

1.56

2.88

19.88

0.50

18.20

160

22.75

16

1.25

20

27.50

1.69

4.06

22.00

0.50

20.25

195

25.00

20

1.25

22

29.50

1.81

4.25

24.25

0.50

22.25

245

27.25

20

1.38

24

32.00

1.88

4.38

26.13

0.50

24.25

275

29.50

20

1.38
Metleader Inc is an export-oriented company with extensive production experience and rigorous testing. We exported Carbon steel lap joint flange to the whole world. Our flange is made of high quality raw materials. The flange range is used for mounting the end of the lap or lap joint. Carbon lap joint flange class 300 is a very popular product.
Our flange products and pipefittings products all have get ISO9001:2008 , CE , TUV Certificate.
1. Type: Carbon Steel Lap Joint Flange
2. Face: Rised Face(RF), Flat Face(FF)
3. Pressure: 150lbs to 5000lbs
5. Standard: ASME/ANSI, MSS-SP, DIN, GOST, BS, JIS, AWWA,etc.
6. Material:
① Carbon Steel: ASTM A105N, ASTM A350 LF1, LF2 CL1/CL2 LF3 CL1/CL2, ASTM A694 F42, F46, F48, F50, F52, F56, F60, F65, F70
② Stainless Steel: ASTM F304/304L, F316/316L, F316H, F316Ti, F321, F44 ,A182
③ Alloy Steel: ASTM A182 F1, F5/a, F9, F11, F12, F22, F91
8. Printing: Yellow print, black print, oil or Zn.
9. Package: Plywood Cases or according to Customization
10. Other products:Flange,Elbows, Tees, Concentric and Eccentric Reducers, Pipe Caps, Bends,butt welding