Large Size 45 Degree Elbow
SPECIFICATIONS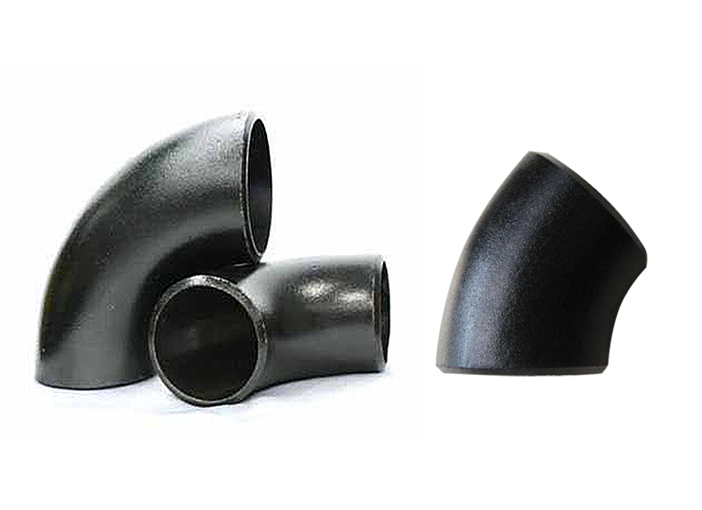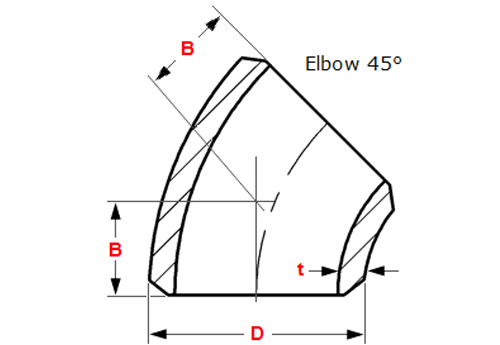 Large Size 45 Degree Elbow
About standard ASME B16.5 large size is 48'' 45 degree elbow, we also can made irregular pipe elbow. The irregular pipe elbow need the customer provide the drawing.
Product Name:
45 Degree Elbow
Place of Origin:
Mengcun,China
Standard:
ANSI B16.9 / 16.28, ASTM A53/A106, API 5L, ASME B36.10M---1996, DIN2605 / 2615 / 2616,
JIS P2311/2312
Thickness:
SGP, STD, SCH40, SCH80, SCH160. XS,XXS and so on.
Size:
1/2"--72"
Material:
Carbon steel , alloy steel, stainless steel
Surface treatment:
Transparent oil, rust-proof black oil or hot galvanized.
Payment:
T/T OR L/C.
Special design available All the production process are made according to ISO9001:2000 strictly.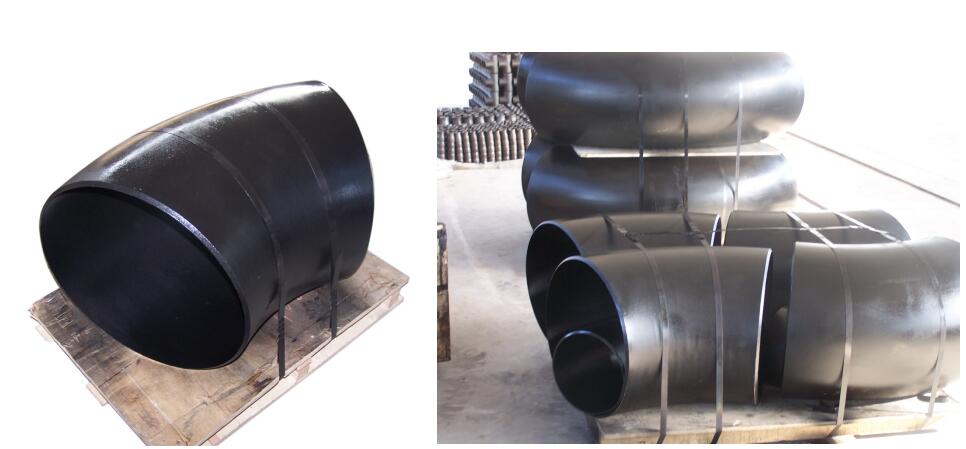 This is some normal size 45 degree elbow:
Nominal
Pipe Size
Outside
Diameter
O.D
Center to End
STD
SCH40
X-S
SCH80
SCH160
XX-S
Long
Short
T
T
T
T
T
T
A
B
A
1/2
0.840
1.50
0.62
-
0.109
0.109
0.147
0.147
0.188
0.294
3/4
1.050
1.50
0.75
-
0.113
0.113
0.154
0.154
0.219
0.308
1
1.315
1.50
0.88
1.00
0.133
0.133
0.179
0.179
0.250
0.358
1 1/4
1.660
1.88
1.00
1.25
0.140
0.140
0.191
0.191
0.250
0.382
1 1/2
1.900
2.25
1.12
1.50
0.145
0.145
0.200
0.200
0.281
0.400
2
2.375
3.00
1.38
2.00
0.154
0.154
0.218
0.218
0.344
0.436
2 1/2
2.875
3.75
1.75
2.50
0.203
0.203
0.276
0.276
0.375
0.552
3
3.500
4.25
2.00
3.00
0.216
0.216
0.300
0.300
0.438
0.600
3 1/2
4.000
5.25
2.25
3.50
0.226
0.226
0.318
0.318
-
-
4
4.500
6.00
2.50
4.00
0.237
0.237
0.337
0.337
0.531
0.674
5
5.563
7.50
3.12
5.00
0.258
0.258
0.375
0.375
0.625
0.750
6
6.625
9.00
3.75
6.00
0.280
0.280
0.432
0.432
0.719
0.864
8
8.625
12.00
5.00
8.00
0.322
0.322
0.500
0.500
0.906
0.875
10
10.750
15.00
6.25
10.00
0.365
0.365
0.500
0.500
1.125
1.000
12
12.750
18.00
7.50
12.00
0.375
0.406
0.500
0.688
1.312
1.000
14
14.000
21.00
8.75
14.00
0.375
0.438
0.500
0.750
1.406
-
16
16.000
24.00
10.00
16.00
0.375
0.500
0.500
0.844
1.594
-
18
18.000
27.00
11.25
18.00
0.375
0.562
0.500
0.938
1.781
-
20
20.000
30.00
12.50
20.00
0.375
0.594
0.500
1.031
1.969
-
22
22.000
33.00
13.50
22.00
0.375
-
0.500
1.125
2.125
-
24
24.000
-
-
-
0.375
0.688
0.500
1.219
2.344
-
26
26.000
-
-
-
0.375
-
0.500
-
-
-
28
28.000
-
-
-
0.375
-
0.500
-
-
-
30
30.000
-
-
-
0.375
-
0.500
-
-
-
32
32.000
-
-
-
0.375
0.688
0.500
-
-
-
34
34.000
51.00
21.00
-
0.375
0.688
0.500
-
-
-
36
36.000
54.00
22.25
-
0.375
0.750
0.500
-
-
-
38
38.000
57.00
23.62
-
0.375
-
0.500
-
-
-
40
40.000
60.00
24.88
-
0.375
-
0.500
-
-
-
42
42.000
63.00
26.00
-
0.375
-
0.500
-
-
-
44
44.000
66.00
27.38
-
0.375
-
0.500
-
-
-
46
46.000
69.00
28.62
-
0.375
-
0.500
-
-
-
48
48.000
72.00
29.88
-
0.375
-
0.500
-
-
-