Beijing Metleader Pipeline Technology Inc. manufactures pipe fitting and flange which are extensively used for oil and gas exploration , production and delivery.
Metleader manufactures and supplies pipe fitting and flange with all specifications of international standard AMSE/ANSI, DIN, JIS, EN, BS and GOST. The material refers to carbon steel, stainless steel and alloy steel.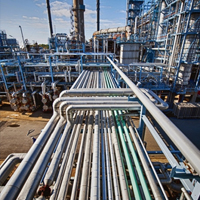 Metleader pipe fittings and flanges are widely used in oil and gas exploration refining, production and delivery. Pipe Fitting and flange plays an very important role and promotes the development of oil and gas industry. Especially in the transport of oil and gas has saved the cost greatly.
Pipe fitting includes elbow, tee, reducer and cap. When the pipes need to be changed the direction elbow will be used. And when the pipes want to have branch tee can come into the play. Reducer commonly used for the connection between two pipes with different diameter. Cap is just the end of pipe. Flange is actually one kind of pipe connector which is convenient for pipe installation and repair. During the exploration, production and delivery of oil and gas, many pipes and pipe fittings usually be used to connection and change the direction of pipelines.
Our products have been certified by ISO, CE and BS systems which ensure all pipe fittings and flanges produced according to more stringent safety standards. And we always cooperate with some authoritative third party inspection organizations such as SGS, BV and Pony to control our quality. We are trying the best through many ways to provide the biggest safety guarantee for the oil and gas pipeline.